It's been a while since I have talked about the things I have really been loving, so I thought a new 'favourite' post was well overdue.
M A K E U P
Charlotte Tilbury Light Wonder foundation.
I never really wear foundation, but on special occasions this is nice and natural to make me look a bit nicer and polished. It doesn't give you spots and feels really light and natural. It's £32 but definitely worth it as it is a lot better compared to any cheap foundation I have tried so it is worth the splurge. If you like fuller coverage this foundation mightn't be for you as you have to use quite a lot to build it up to full coverage.
I love this as it is really easy to apply and you have a lot of control, the product itself lasts for ages and is really long wearing but it doesn't do well if it gets wet. I think this works just as well as high end and it is really affordable!
Mario Badescu Rose water.
The main reason I bought this was because I had seen it all over Instagram, and I was pleasantly surprised by it as it is amazing. It makes your skin feel so refreshed and perfectly primes and sets your face. It is the quality of a high end product but it is priced like drugstore.
Bright Coral Adidas trainers
I love these for running as they feel light as air. They literally feel so nice on your feet and are so comfy and nice. I also love the colour, it's so nice and a good change from black trainers.
C L O T H E S & A C C E S S O R I E S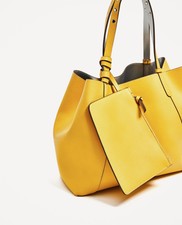 My new school bag and P.E bag
The school bag is from Zara, it is reversible silver and mustard yellow. It's a great size and is very sturdy so it won't snap when it has all of my heavy textbooks. The P.E bag is from Primark, it's a baby blue cotton one and it's quite vintage looking, almost, and it's the perfect size to fit inside my locker.
Zara Yellow faux leather jacket
This is so cute, it matches with so much stuff and it is really cute. It was £20, so it was really affordable and perfect for any occasion as it can be causal or dressy depending on what you wear it with. And it is a really good basic or key piece to have in your wardrobe
Topshop grey "let's avocuddle" avocado t shirt
I feel like avocados have become really trendy recently, so this basic t shirt is perfect. It's really simple and you can pair it with anything. It's also really comfy if you want it for just chilling out at home.
Thanks for reading, see you next time
bye x